To grow in today's market conditions, brands need to reach consumers directly — starting with their packaging. Countless reports today cover the latest news of retail bankruptcies and store closures. And while traditional retail is far from going away, stores are consolidating; and some of their doors are closing. Even with measured closures, there will be fallout. Suppliers of branded merchandise gaze in horror when merchant buyers trim their purchase orders.
If you're a brand who depends on retailers for product distribution, you're probably looking for other avenues of sales growth. You want to be where the consumer is. After years of suppliers appeasing retailers to avoid "channel conflict" — brands can no longer depend on big box partners to bring more shoppers, or top line growth. It's true. And with each shrinking purchase order, big merchants are watching the power to control distribution slip through their fingers.
As a result, suppliers now look for new growth by going direct to consumer. No one talks about channel conflict any more, except retail buyers and old school sales people. In 2017, that conversation is a non-starter. Brands are finally realizing who their "customer" is. Their customer is not Walmart, Target and Macy's. Move aside merchants. The customer is actually the end consumer. And it's the job of every supplier to show the merchant that their product is exactly what consumers want. Most brands today already do some eCommerce themselves. eCommerce is where they collect the best data to make their case with retail buyers — including Amazon. So the digital business is getting renewed attention these days.
Many brands depend on Amazon for a large chunk of their online business. While Amazon has programs like Vendor Central, Fulfillment by Amazon and Seller Central — like most retailers, Amazon still denies the brands who sell in their marketplace the ability to reach out directly to shoppers who buy on Amazon.com.
Q: So what can suppliers who sell in a variety of channels DO to engage with consumers directly?
A: Rethink the packaging. I bought a water bottle on Amazon this past week. The product had 4.5 stars on Amazon. I'd never heard of the brand, but the Amazon review convinced me. When the product arrived at my home a few days later, I was struck by the packaging. The supplier had really thought about the customer when designing the box. It engaged me.
You'll notice on the outside of the box (I've highlighted in yellow), it promotes a VIP Club. Now I don't know who would join a loyalty club for water bottles. But as a member of the club, I get an extended product warranty. Alright, there is value right there. As part of the club, there are also coupons and a monthly giveaway. None of that matters. What matters most is that the packaging has the URL on the outside, with a call to action. "Join the VIP Club at EMBRAVASPORTS.COM"
Not only is the company web site promoted on the OUTSIDE of the package, but it is also promoted inside, with an insert. See below.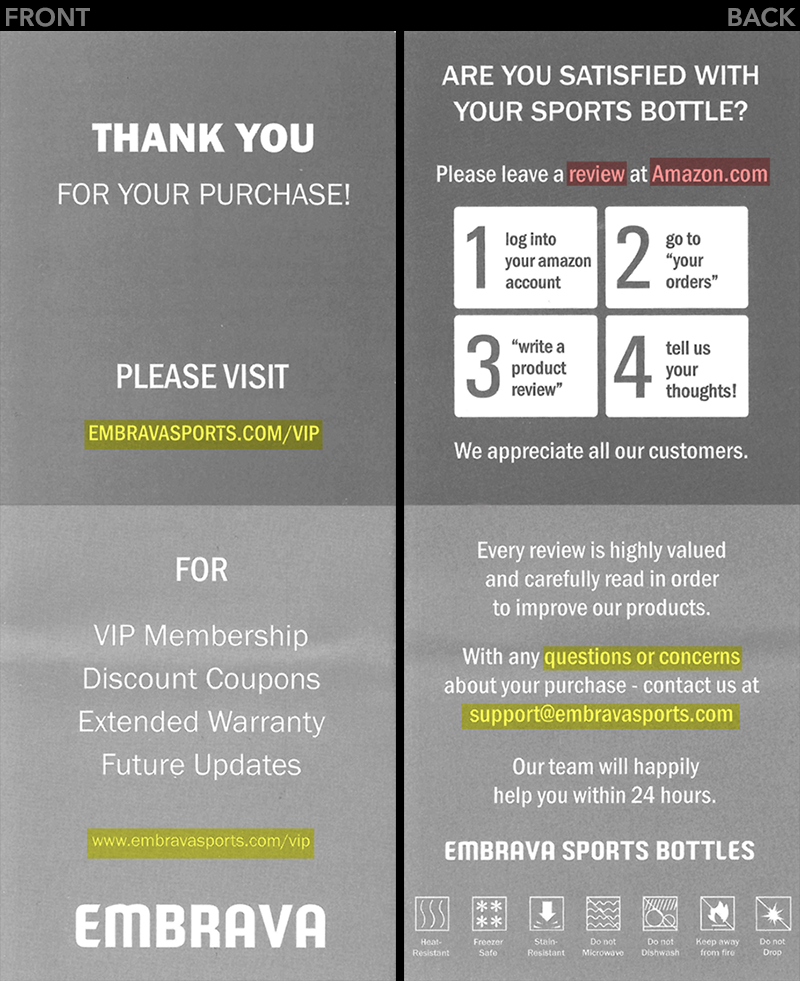 There is an insert within the package, no wider than a business card, that says THANK YOU for the purchase. On the front of the insert, it lists the web site twice with a landing page for the "VIP Club." On the reverse side of the insert, it gives a shout out to Amazon by asking for a product review on Amazon.com (where it is far more likely to bring in more customers). And the insert lists an email (back to the company) for any questions/concerns. The insert assures me that every Amazon review is carefully read; and questions responded to within 24 hours.
If I, the Amazon shopper, have a question about this product: then I know where to go. EMBRAVASPORTS.COM. If I need someone to contact, I know where to send it: [email protected]. And if I want to signup for extended warranty, coupons (not redeemable on Amazon), and promotional giveaways: I may just enroll as a brand ambassador by signing up on the brand's web site.
If you are a supplier looking for ways to grow your business, make the consumer your customer. Engage them directly. And rethink your packaging to bring them back to your site and your brand.
---
Bill Mirabito is an eCommerce consultant for B2C Partners.
https://b2cpartners.com
+1 (781) 585-0750